Taj Mahal in India, a Charming Tourist Attraction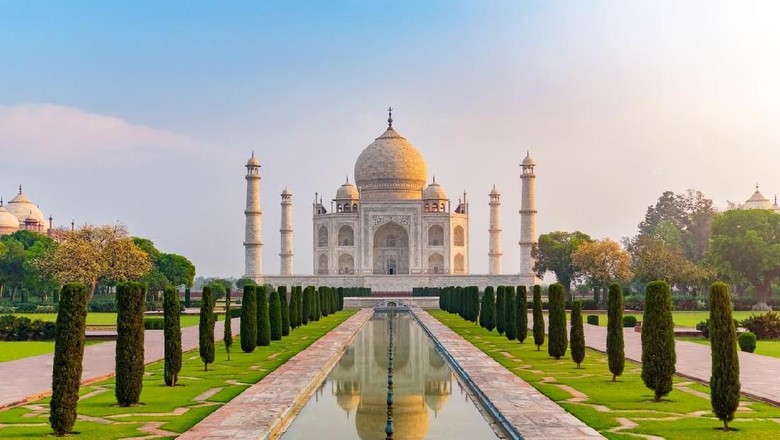 Traveling to India, of course you can't miss to stop by one of the famous buildings there, namely the Taj Mahal. The building is the most popular tourist site in India. even visited by seven to eight million people each year.
Explanation of the Taj Mahal
The Taj Mahal is a complex of buildings which are equipped with a garden. The land area is about 22.4 hectares. There you will find fountains, tombs, and beautiful elongated ponds. The building is said to be a testament to the love of King Shah Jahan, for Mumtaz Mahal. become a resting place at the end of his life or his grave. To complete this luxurious building, it took approximately 22 years. After completion, around 1983, the Taj Mahal was made a UNESCO world heritage site. the building won the New Seven Wonders of the World initiative in 2007.
It also combines traditional forms of Persian art and early Mughal art. Special inspiration came from the Timurid dynasty.
Building
Its beauty can be seen from the architecture of the roofs, domes and towers made of white marble. Then there are also approximately 43 types of stones. Among them are gems, including diamonds, jed, etc. to make buildings even more impressive.
Inside the building there is not only the tomb of Mumtaz Mahal, there is also the tomb of Shah Jahan. In 2017 ago, a court in India. confirms that the Taj Mahal is a Muslim tomb or mausoleum, not a Hindu temple. Meanwhile, to be able to enter there, tourists must pay a ticket of 1,000 rupees for foreign tourists. and 40 rupees for local Indian tourists.
But recently, the Archeological Survey of India. announced that only 40,000 local Indian tourists may visit the Taj Mahal complex per day. Take it easy, these regulations do not apply to foreign tourists. Local visitor restrictions were imposed, because there were so many visitors there.
Based on the research group, in 2010 the marble of the Taj Mahal building appeared to be cracked. The wooden foundation also looks worn out. Not only that, the color of marble is getting yellower and yellower due to the effects of air pollution and acid rain.
Here are 5 things tourists should know before visiting the Taj Mahal:
1. Choose the right time
This building is open every day, except on Fridays. where the Taj Mahal can only be accessed by Muslims who want to worship.
2. Be careful of local residents who want to take selfies
There are times, Indians will come to tourists and ask to take pictures with them. This can cause some tourists to feel uncomfortable and annoyed. Therefore, it is better if we refuse.
3. Dress modestly
Even though they don't have a dress code, there's nothing wrong if tourists who visit wear polite and closed clothes.
4. Stand in line for security check
Tourists will be asked to go through security checks first.
To make this process go faster, make sure you don't bring a tripod, food, chewing gum, drinks, cigarettes, headphones, books, to drones.
5. Ready to walk
As a tourist, make sure you wear comfortable shoes for walking and enjoy the various outlets and restaurants that are along the road to this building.